This post will show you how to register a horse on Rodeo Results. The first thing you'll need to do is download Rodeo Results and create an account.
Create A Rodeo Results Account
Before registering your horse(s) into the Rodeo Results Registry, you must have an account on Rodeo Results. Download the Rodeo Results app from the App Store or Google Play Store to create an account.
Go to your profile after creating an account and logging in on the mobile app. You'll see an option on your profile that says "Horse Roster." Tap it.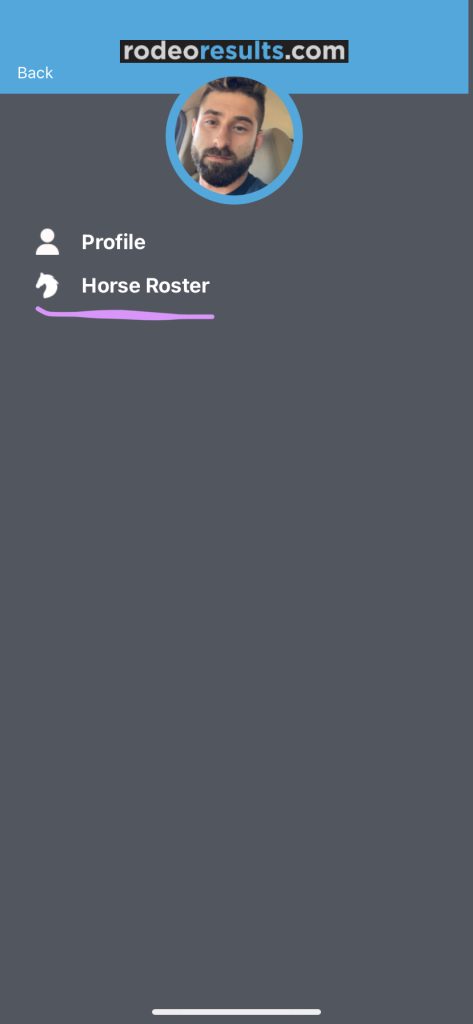 You'll come to a new page. You may see horses in your roster if you've used Rodeo Results or entered through the app prior. If you just created your account, your roster will be blank.
To add a horse to your roster, you must first register them. Do this by tapping the purple button at the bottom of the screen.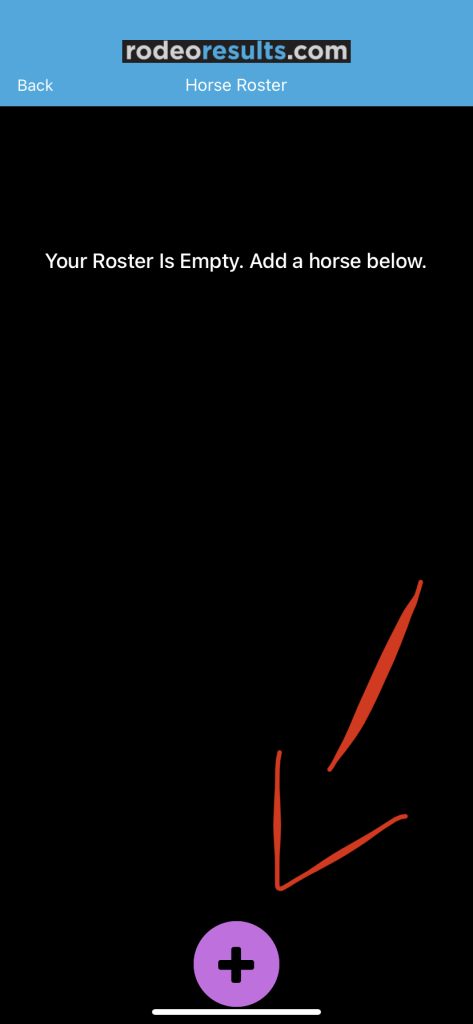 You'll be taken to another new page. On this new page, you'll see three fields: Full Registered Name, Sire Name, and Dam Name. Fill in the required field (Full Registered Name)
If your horse already has a registered name with another registry, input that name. If your horse is not registered, this is where you can create a registered name for them, free of cost.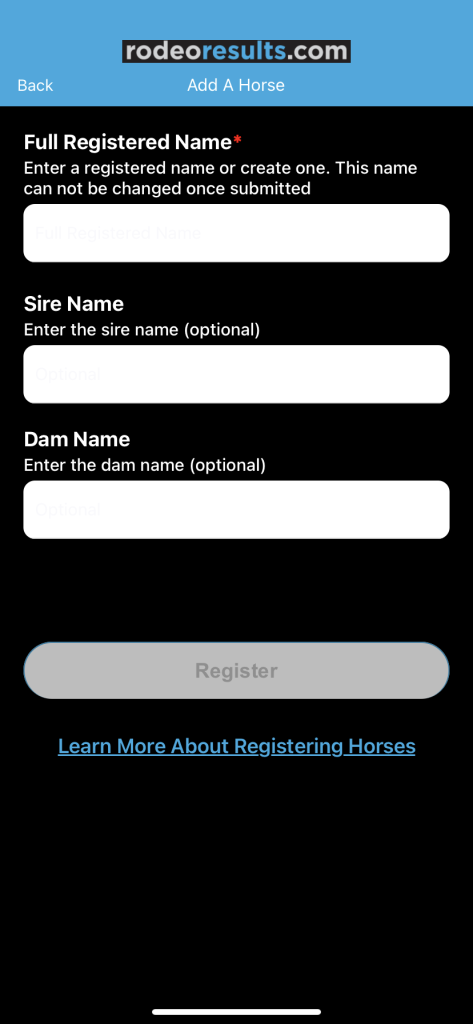 Horse names have a 24-character limit. As you type in the name, our registry will check the availability of the name. If the name is available (not taken), you will see a green notification that says, "Name available."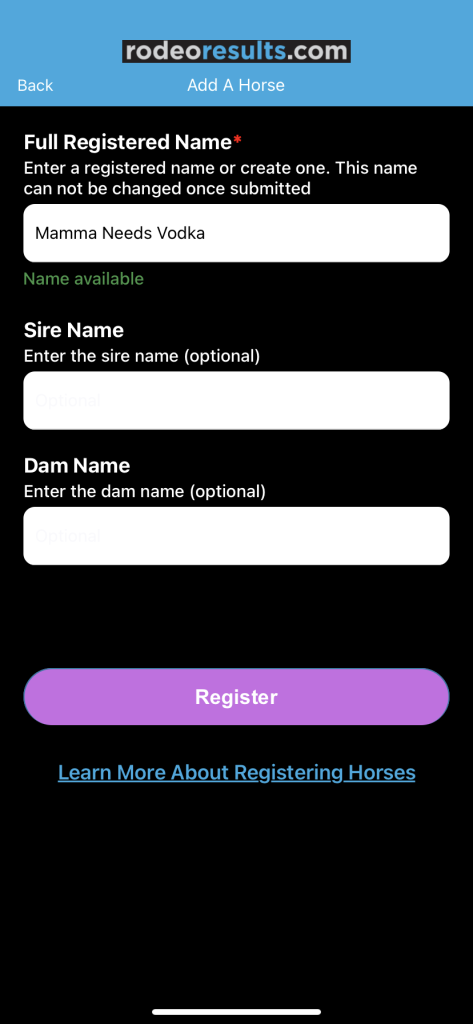 If the name is unavailable (taken), you'll see a yellow notification that says, "Name not available."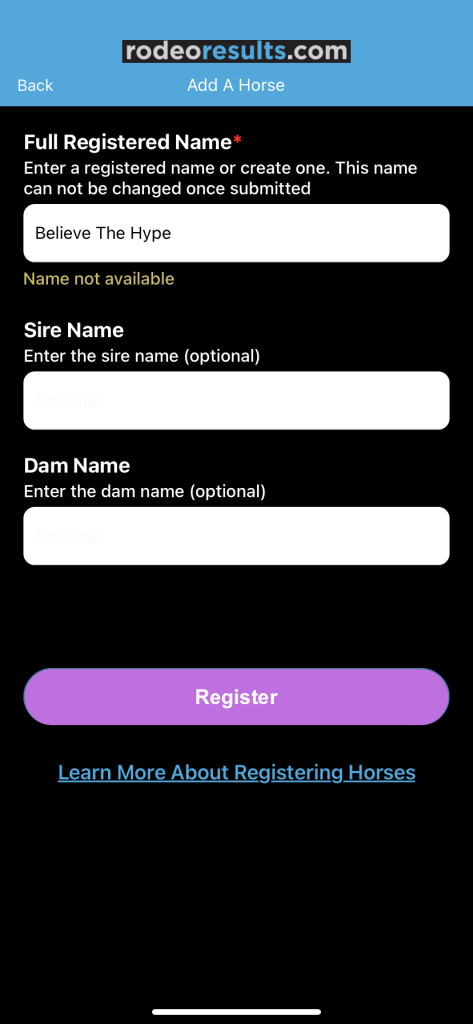 If you have a grade horse, and the name you use is taken, we recommend putting your last name at the end of it. For example, let's say you call your horse Whiskey, but that name alone is unavailable. Put Whiskey then your last name. See the examples below.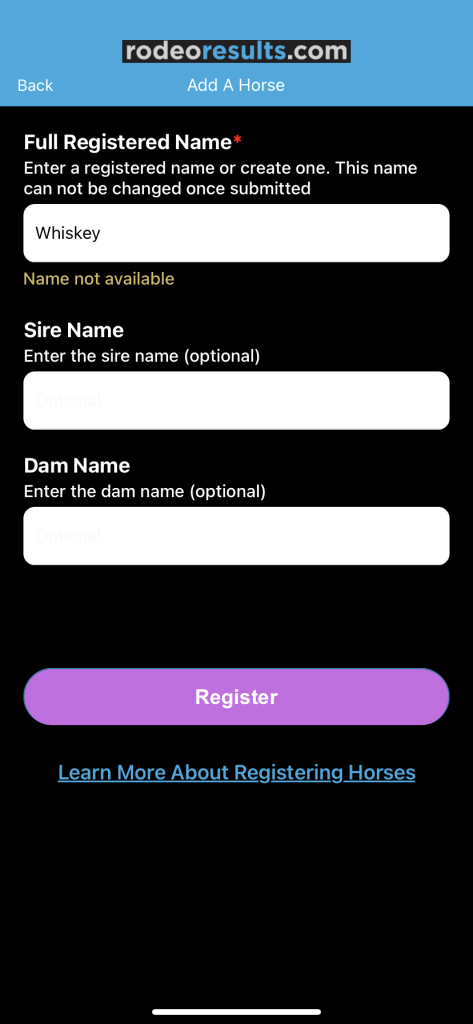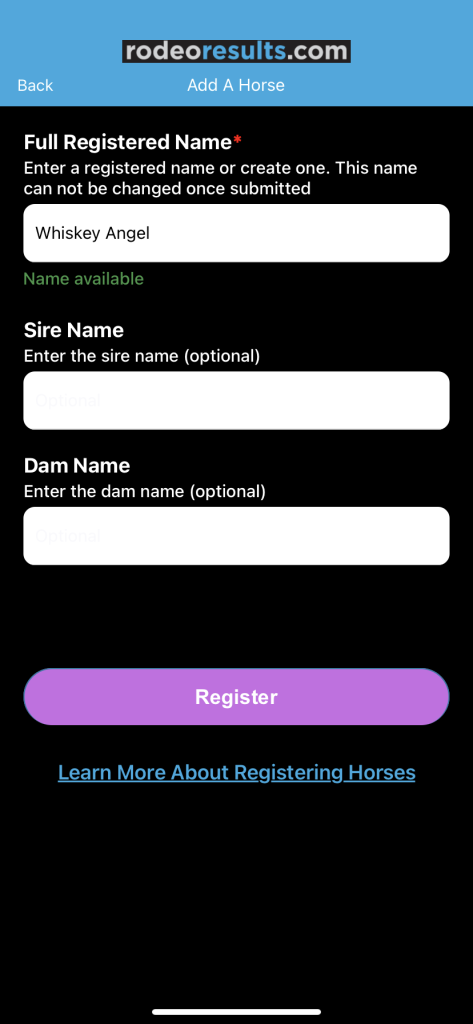 While choosing a name for your grade horse, remember this is the time to be creative. If you want to give your horse a more "majestic" name than Whiskey, this is the time to do so. Once you register the name, it can not be changed.
Once you've found a name you like,
This is the beauty of Rodeo Results. On our platform, the grade name horse dilemma is non-existant. One you If you don't know the Sire or Dam of your grade horse, don't worry. The Sire and Dam fields are optional.